Images of the OOPS Experiment at the MIT/Bates Laboratory, Middleton, MA
---
Bartoszek Engineering contributed to the OOPS experiment at the Bates Laboratory in a variety of ways. We designed pieces of the OOPS spectrometers, assembly tooling, and two different support structures for the OOPS modules. The first structure is called a "satellite" support and it can support and aim a single OOPS (Out-Of-Plane-Spectrometer) module at the target point. The second structure is called the "gantry," and it can align two OOPS modules mounted one above the other. The links that follow will show in detail many of the design features of all of the devices.
---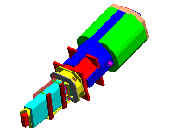 Link to the OOPS Module Page
---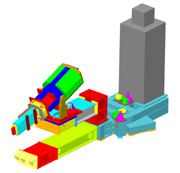 Link to the OOPS Satellite Page
---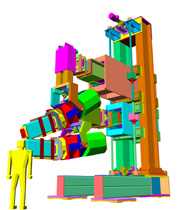 Link to the OOPS Gantry Page
---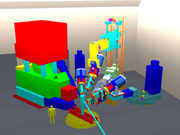 Link to the Bates South Hall Page
---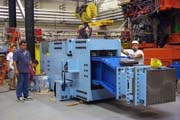 Gantry Construction up to Lower OOPS assembly
---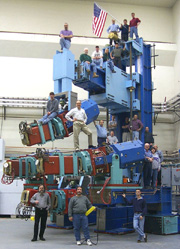 New! The Finished Gantry
---
You are welcome to download any of the images. If they are used for other than private viewing, credit to Bartoszek Engineering and MIT/Bates would be appreciated.
The solid model renderings were created with AutoCAD R12 and AccuRender 2.1 from an AME solid model of the OOPS Gantry and Satellite Support Structure designs.
---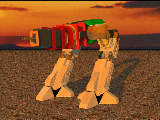 "OOPS robot on Mars," 54K
This picture showcases some of AccuRender's features such as the ability to associate bitmaps with the ground plane and "sky". The solid model was the basis of the OOPS tee shirt logo. Tee shirt images are white or black ink (hidden lines removed) on a variety of shirt colors and sizes. Tee shirt orders are always welcome at design@bartoszekeng.com Minimum order is six shirts of the same ink color. Cost per shirt is $10.00, shipping is extra.
---
Back to the Bartoszek Engineering Home Page