as of 2/15/01
---
The pictures below show the assembly of the Inner Conductor Piece 1-2 with its handling fixture for cleaning in the ultrasound tanks. Once this part was mounted we did a test fit of the HV half shells and Twist Transitions. They fit just fine. Finally, I've included a shot of the unistrut carriage we need on the welding machine to remove the finished inner conductor from the welding machine. All is progressing toward the big day of inner conductor welding.
Click on any of the thumbnails to get an enlarged view.
---
This fixture is needed to safely support and hang the IC in the ultrasound tanks at NWA. The tanks are not deep enough to allow vertical cleaning of the IC (the preferred position for safety,) so we made this handy fixture. It made a good support for test fitting the HV components. The IC part shown is a rejected one just for testing handling procedures and fits with other parts.
---
Four shots of the twist transitions assembled to the half shells on the IC. These pictures don't really do justice to how strange these parts are to stand next to. Everything went together well. We can now disassemble all of the half shells and twist transitions and send them out for silver plating.
---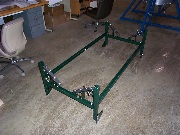 A shot of the unistrut welding fixture. It still needs track rollers, but it is almost ready for the big day.
---
Back to the MiniBooNE Horn Main Menu
---
Back to the Bartoszek Engineering Home Page