Photos of the Horn Box at Viking, 1/15/01
---
These are pictures of the horn box taken at Viking in Hanmmond, IN, just prior to shipping. We went there on 1/15/01.
---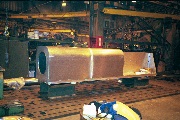 The assembled box, 193K
The box will be shipped assembled with a subset of its fasteners. We will disassemble the bolted-on pieces and assemble the horn to the platform replacing all of the steel fasteners with aluminum ones.
---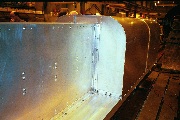 View looking downstream from beam right, 163K
---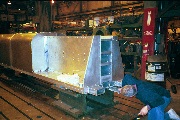 View looking downstream from beam left, 189K
Danny is examining the "trailer hitch" that will be used to insert and extract the horn box from its coffin into the target vault.
---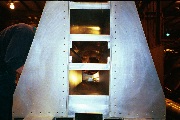 View looking straight downstream, 143K
The second rectangular opening from the top is the volume that the target and vacuum pipe/BPM modules get inserted into.
---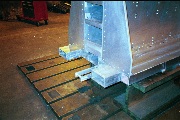 Close-up of upstream end, 165K
We still have to weld the quick disconnect air flanges onto the rectangular tubes sticking out of the platform. (Not to mention all the many holes that will have to be transferred to this end for the various air ducts, flanges and pipe hangers.)
---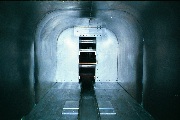 View looking upstream through air window hole, 125K
This picture shows the "cave" that the horn will live (and die) in. You can see the machined surfaces in the bottom foreground where the horn and water truss mount to the horn platform.
---
Back to the MiniBooNE Horn Main Menu
---
Back to the Bartoszek Engineering Home Page