Trip to O'Keefe Ceramics on 2/8/01
---
Danny and I went to O'Keefe in Woodland Park, CO on 2/8/01 to check up on the status of the big ceramic insulating rings. We saw three rings in process and extracted a promise of delivery by 3/1/01.
Click on any of the thumbnails to get an enlarged view.
---
Two view of the two ceramic rings that had their IDs ground to size. The third one was on the CNC grinder.
---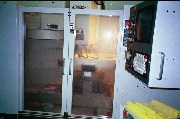 Shot of the CNC grinder used to make these rings.
---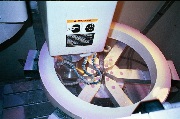 View from above the CNC grinder to get a better look at the ring in process.
---

In case you were wondering where the Brachiosaurus from the Field Museum ended up, it is now roaming the concourse at O'Hare.
---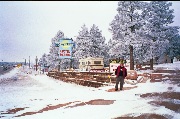 This trailer park is where the seven escaped convicts from a Texas prison were caught recently. This is a rare shot of one of the convicts posing in front of the park shortly before his capture.
---
Back to the MiniBooNE Horn Main Menu
---
Back to the Bartoszek Engineering Home Page